Emile Henry - Ceramics since 1850 - Made in France

---
Marcigny, a small town nestling between the hills of Southern Burgundy, has been home to Emile Henry for the past 150 years. Faithful to its origins, the entire production is carried out here. Thanks to its clay, rich in refractory properties, Burgundy has remained a fertile area for potters, passing on their savoir-faire from generation to generation.The rich soil and famous vineyards have made of Burgundy a gastronomic area, producing many great chefs and regional specialities.


Ultime gratin dish from Emile Henry
With the rectangular casserole dishes from Emile Henry, you can prepare lasagne, gratins and roasts, cook them and present them on the table.

It is made of HR® ceramic (High Resistance), which distributes the heat evenly, allowing food to cook perfectly and naturally all the way to the centre. It can be taken straight out of the freezer and placed in the oven at up to 270°C or under the grill.
read more
Large Storage Bowl

Created with a clever design and using natural materials ideal for storing fresh produce––the Large Storage Bowl performs on 2 levels. The cork lid, which serves as a fruit bowl, provides an elegant presentation, while the ceramic base offers a space for keeping onions, beets or potatoes fresh and out of sight.

Under the lid, the lack of light slows down germination, and 3 small holes provide just the right amount of ventilation. Coupled with the insulating properties of cork and ceramic, the Emile Henry Large Storage Bowl recreates conditions similar to those of a cellar, right in the heart of your kitchen or dining room.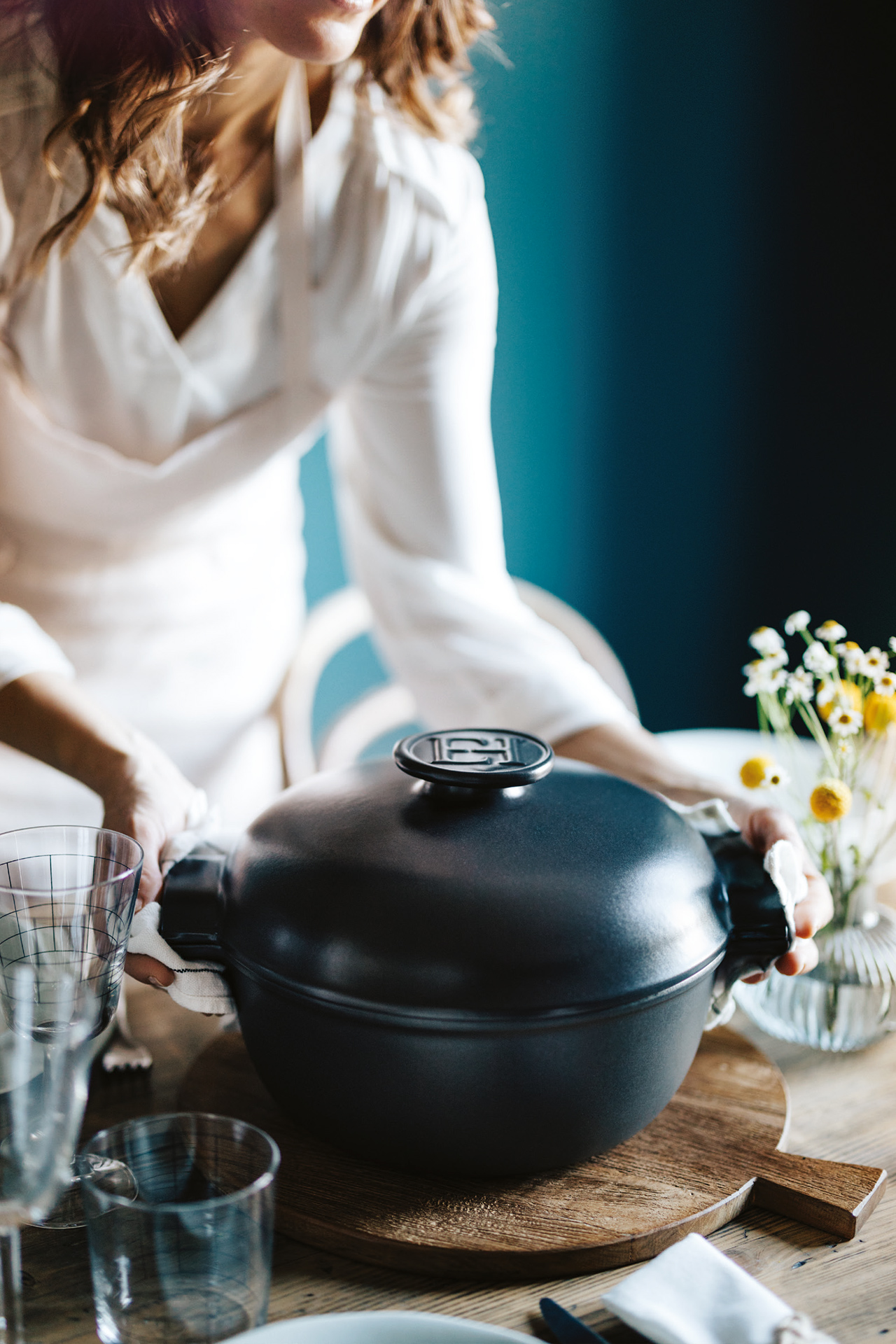 Emile Henry since 1850 - Ceramics Cookware made in France

A family matter
(ours and yours)

From the young potter Jacques Henry in 1850 to Emile and then Jean-Baptiste Henry, six generations have passed the torch from father to son, each driven by two passions: ceramics and home cooking.
Like you, we love to linger over each step, from the meticulous choice of ingredients to the slow revelation of flavours throughout the cooking process… to the moment when the dish is enjoyed with family and friends. That is why we are so proud to be by your side as our cookware enables you to bake, roast, or grill these creations that you love to share so much.
Made in France: a source of pride as well as a firm belief.

Naturally, we are proud of our products, of the pleasure that people take in using them all around the world, and of the fact that their creation contributes to the local economy. But for us, Made in France is also an environmental choice: our deep conviction is that this is the best place to exercise our craft the right way.

Minimal energy consumption, recycling, compliance with France's strict standards: we give our best day in and day out, for that is our commitment. And by choosing us, you play a part as well.
A lasting commitment
Durability, quality, and the nobility of natural raw materials lie at the very heart of our brand. That is why we chose to cultivate a taste for the essential and the authentic long before it became fashionable. Simple, healthy, and highly resistant, our dishes are created from a unique blend of clays, our time-honoured recipe developed for a sustainable form of production. Neither petroleum derivatives nor nanomaterials: let us appreciate and heed the old proverb "experience always wins the day."
Quality at heart
We know that in order to win you over, our dishes must be of the highest quality, which is why they are guaranteed for 10 years. There is nothing surprising about that: in our laboratory, three engineers work on the thermal and mechanical shock resistance of our ceramics. Each day, we create and test new, ever more practical shapes adapted to the cooking styles of the world's kitchens.
Almost 170 years old (but still young at heart)
Our longevity depends as much on this solid foundation as on our will to constantly reinvent ourselves. We see our Maison as one big table, where ancient skills and youthful energy meet.

With our feet firmly planted on the ground (in Burgundy) and our head in the clouds, we find inspiration in the latest cooking trends and in the contemporary spirit. We cultivate our inner child with passion, which in turn inspires us to keep dreaming and keep creating.